Art of Dentistry - A " Green " Office
Our office is one block north of Mount Mary College and one mile from Mayfair. The building was purchased in 1985 as an abandoned house on the condemnation list for the city. Patients often comment on how much they enjoy the ambiance of our waiting room - relaxing by the fireplace, or finding a favorite sunlit spot to browse through our famous selection of magazines.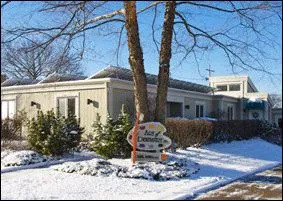 Winter 2011

63 Solar Panels puts Power back on the Grid
Milwaukee, WI Dentist
Art of Dentistry
9211 W Auer Ave
Milwaukee , WI 53222
(414) 445-3670
Call For Pricing Options
Monday:
Tuesday:
Wednesday:
Thursday:
Friday:
8:00 AM - 4:00 PM
8:00 AM - 4:00 PM Receptionist on Duty
Wednesday:
Thursday:
Friday:
Parking
As a courtesy to our neighbors, please attempt to park in front of our property on Auer Avenue or 92nd Street. Can't find a spot? Park in front of our driveway/garage door; it's not used during the day.
Appointments
Although we do offer same-day appointments when available, we encourage making appointments as far in advance as possible. Julie or Ben will be happy to answer any questions you have regarding scheduling. On our web site, you can request an appointment . If for any reason you cannot keep a scheduled appointment or will be delayed, please call us as soon as possible.
Insurance and Billing
We accept most traditional insurance plans, contact our office to verify acceptance of your plan. We accept Delta Dental, United Health Care, Humana, Cigna, Blue Cross Blue Shield- Anthem, Atena insurance plans. We are happy to file your insurance for reimbursement.
Payment Options
Payments can be made with checks, cash or credit cards. We accept Visa, Mastercard, or Discover Cards. We also offer dental financing programs through CareCredit and Lending Club which provide flexible payment options to fit your needs. See below for details.
Financing Options


CareCredit is here to help you pay for treatments and procedures. They offer No Interest* financing for one year.

With three simple steps, it's easy to apply for CareCredit. After you're approved, you're free to use CareCredit for your dental services. And many more including LASIK, veterinary, cosmetic, or hearing aids.

CareCredit is endorsed by some of the most credible health organizations. And CareCredit is a GE Money Company, you can count on them. For more than 20 years, they've helped over five million cardholders.
For more information or to apply online, visit carecredit.com .