Dental Implants in Milwaukee, WI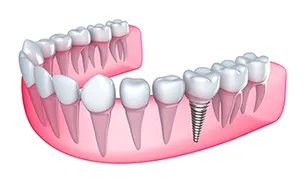 Tooth loss is a serious issue and we've dedicated our time to finding the latest and greatest ways to replace missing teeth. Dental implants have become a popular tooth replacement option for our adult patients who are looking for a realistic and long-lasting false tooth. If you are interested in what dental implants can offer you, our dentist Dr. Sirisha Pulapaka, and the team at Art of Dentistry here in Milwaukee, WI can provide you with the answers you're looking for.
What is a Dental Implant?
A dental implant is a permanent artificial tooth. It's different from other tooth replacement options in that it replaces the missing tooth in its entirety, from the roots to the crown. The implant is made up of a titanium post that replaces the roots of your tooth. The metal post is surgically placed into the jawbone. Once the jawbone and implant fuse together, our Milwaukee, WI, dental team will fit the implant with a custom-fitted dental crown to complete the restoration.
What is Involved in Getting a Dental Implant in Milwaukee?
We think nothing is more important than being as transparent as possible about the treatments we offer. We understand that the more you know about dental implants and the other tooth replacement options we offer the more of an informed decision you can make on the best tooth-replacement option to fit your needs.
What Should You Expect from the Implant Procedure?
There are two main steps to getting a dental implant: Placing the implant in the jawbone and then placing the implant restoration (usually a crown) over the implant. Before you even get your implant you will have to turn to our Milwaukee, WI, dentists for a consultation to make sure your smile is healthy enough for implants. Once the implant is surgically placed, the next step is to create the dental restoration (aka the crown). The restoration is the part everyone sees when you smile, so you'll want a restoration that looks just like a real tooth. It will usually take 3-6 months for the jawbone to fully fuse with the implant, and it can take up to one year to get your completed restoration.
Can You Replace Multiple Teeth with Dental Implants?
And what if you are replacing several or all of your teeth? Multiple implants can also be placed along the jawbone to hold a dental bridge or dentures. That's right; implants aren't just for single dental restorations. They can also securely hold other restorations to replace one, several, or all of your missing teeth.
Want to find out if dental implants are right for you? To find out, call Art of Dentistry in Milwaukee, WI, at (414) 445-3670 to schedule a no-risk consultation with our dental team.